Taking Attendance
UASuccess allows you to set up a class meeting schedule for your courses and record, edit, and report on attendance for the class. This feature allows instructors, appropriate staff, and students to view attendance. Note: Attendance recorded in UASuccess cannot be sent to Blackboard Grade Center.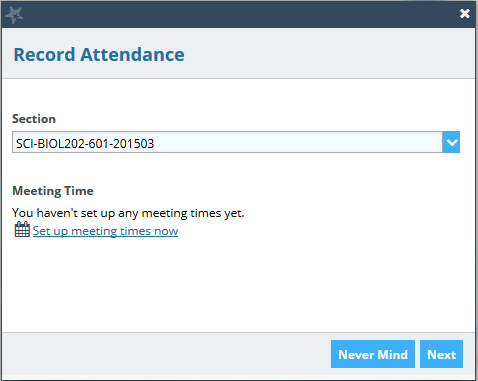 Select Record Attendance from your home page or use the Attendance tab in the Students section of UASuccess.
Select the class section.
Select Set up meeting times now.
From this point forward, you will be able to record attendance from your scheduled meeting times or record a single occurrence of attendance.
To edit previously recorded attendance, select the meeting time and then Edit.
UASuccess allows you to filter attendance information, raise flags based on attendance, and run attendance reports.

Student View of Course Attendance
UASuccess allows students to view attendance. Students will select Courses to view attendance data.